---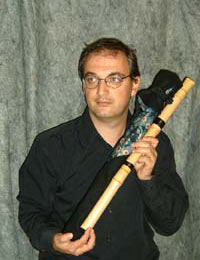 MUSIC THERAPY
Stefano Scala has worked for many years on research in the field of music and music therapy. As a music therapist he took a diploma at the C.E.M.B. in Milan in 1994 – 1995 with a degree thesis entitled "Sound, Music, Therapy – A Journey through Time ". He is the holder of a supervision certificate issued by C.E.M.B. and an attendance certificate for the 1st Masters Course in Music Therapy – Methodological Specialisation, also issued by C.E.M.B. in Milan. In in 2002 Assisi he passed the exams of CONFIAM – the Italian Confederation of Music Therapy Associations, to qualify as a professional music therapist. He has participated in conferences of APIM, the Italian Professional Association of Music Therapists, a member of the World Federation of Music Therapy.
As a member of the Italian Association of Professional Music Therapists, A.I.M, he takes part in national conferences on music therapy, and has taken part in the International Congress of music therapy, "Music Therapy in Italy and Europe – realities and prospects for a profession", held at the Department of Psychology of the University of Bologna. He has taken part in the training course "The Targeted and Creative Play-Interdisciplinary Methodology of Music" organised by C.E.M.B. in collaboration with the Department of Education and Permanent Training of the Università Cattolica del Sacro Cuore in Milan – "Play expressiveness with the body, the voice and Orff instruments. Basic teaching as education and therapy". He took part in the Conference "The Forgotten Memory – Research and Application of Music Therapy in Alzheimer's disease" which took place in Turin and was organised by the Benenzon Centre for Music Therapy. He took part in the Conference of Musical Pedagogy organised by the Arpamagica Music Association in Milan (with the patronage of the Lombardy Regional Council) - "Musical Crescendo – The language of sound and musical education in early infancy". He has attended a course on the theory and practice of Indian Music Therapy according to the Mukunda method, with Vemu Mukunda and Alberto Guccione. He has followed courses on multisensory and cognitive development through the creative practice of rhythm, movement, singing and instrumental manipulation with Gertrude Orff. He has taken part in lessons on psycho-linguistic issues, sound, parole and meaning with Dr. Silvio Ceccato.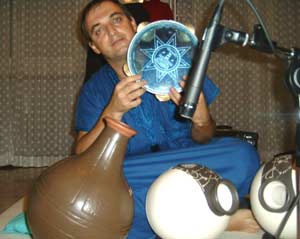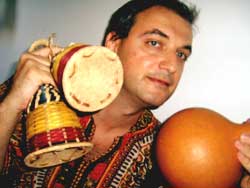 As a music therapist he has worked as a freelance, above all helping in situations of social and psychosocial difficulties (drug addiction, terminal diseases, children, adolescents with mild relationship disturbances), in prevention (women in pregnancy and the elderly). He has collaborated with Therapeutic Communities, the Italian cultural association ARCI, Schools of Musical Animation, Schools of Music, Parishes, Council Bodies, Cooperatives, Centres of Holistic Medicine and Centres of Art Therapy (in particular RAKU). He participated in a seminar organised by the Beth Abraham Hospital in New York – "Curing with drums". He has attended therapeutic courses with the shaman Suet Wan Thow. For years he has studied the relationship between the power of music and shamanism. He has followed various courses on the voice as a therapeutic instrument, with teachers of the calibre of David Hykes and Amelia Cuni. He dedicates himself to teaching above all by holding seminars on the relationship between rhythm and therapy, with particular anthropological reference and attention to inner and external listening.