While specialising in percussion, he also studied singing, piano and composition.Italian Musical Researcher, accomplished Musician, Composer and Music Therapist, he has always been interested in ethnic music and ethno-musicological research.He founded the group Etnica, made up exclusively of percussionists, which has held concerts in Italy and Switzerland.After having played in symphony orchestras (Milan, Mantova, Lodi, Zagreb, Lugano) and folk orchestras (Bergamo, Turin, Vicenza) he began to increasingly research the roots of music. He performed a series of concerts and journeys around the world, visiting deserts, hermitages, refuges, mountain cabins, monasteries, botanical gardens and greenhouses, and holding concerts in original and unusual places such as grottoes, hothouses, mountain forts and alpine pastures. In these shows acoustic sounds were always of primary importance.His shows have also been held in various theatres in Italy and abroad, as well as in important Italian and European abbeys and churches.He has written music for documentary soundtracks, and background music for exhibitions and fashion shows.For some years he has been focusing on ambient music, with clear spiritual and ritual inspiration, where acoustic sounds are at times combined with electronic music.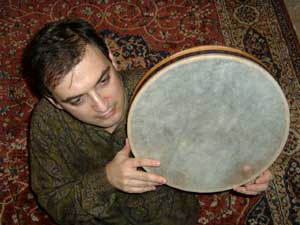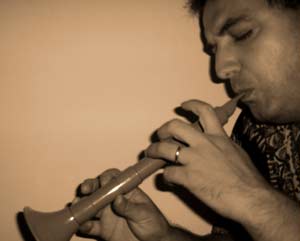 Often in his work there emerges the idea of travel as knowledge.
He has collaborated with the Shaman of North America Suet Wan Thow and with the Schola Gregoriana Mediolanensis directed by Maestro Giovanni Vianini.He has studied Palaeography and Musical Philology and has carried out research on singing, in particular Gregorian, Greek Orthodox, Tibetan and on Siberian shamanism. He has been studying music from outside Europe for many years and over this time has worked with a wide number of Italian and foreign musicians.He teaches in various universities in Italy and France.Together with the biologist Dr Elena Viganò, he has performed botanical research which leading to the use of natural instruments in his shows. His concerts are inspired by the relationship between man and nature, trying to start a journey towards the roots of a man and of music. For some time he has been interested in the relationship between rhythm and human nature, between therapy and music and between the latter and religion.He took part in the International Symposium of Prehistoric Arts in Valcamonica and has carried out research on birdsong.For some years he has been working together with Dr Mario Brandazzi, following research on the relationships between music and bamboo. Together they organised the seminar "Bamboo in the Garden and in Music".He has taken part in courses and seminars with Andrea Centazzo, Federico Sanesi, Walter Maioli, Glen Velez, Joji Hirota, Pierre Favre, Peter Erskine, Trilok Gurtu, Pandit Shankar Ghosh, Madjid Khaladj as far as regards percussion; for voice with Amelia Cuni, Susan Lovegrove Graziano, Luciano Scalco, David Hykes, Michael Vetter, Vasta Marek; for shakuachi with Akira Yokohama; for flutes with Walter Maioli, for rhythm and African dance with Nino Raddi Farxaan and Dudou Ndiaye Rose; for theatre and mime with Rossana Rossena.In recent years he has made various study journeys during which he has achieved further technical specialisation in percussion instruments such as Udu e Gatham.