---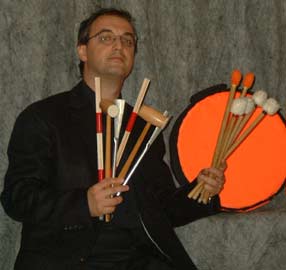 Stefano Scala
An Italian musical researcher, musician, composer and music
therapist, he has always been interested in ethnic music and ethnomusical research. His work often deals with the notion of travel and knowledge. After having worked with symphonic orchestras, he began researching the more recordite roots of music. He has played in unusual places, nurseries, grottos, mountain refuges ñ as well as more tradizional theatres and churches. He has studied Paleography and Musical Philology, and has undertakenresearch into singing, especially Greek orthodox, Tibetan and Siberian Shaman
singing, as well as Gregorian chant. He has studied non European music for years, and has worked with a variety of musicians from all continents.